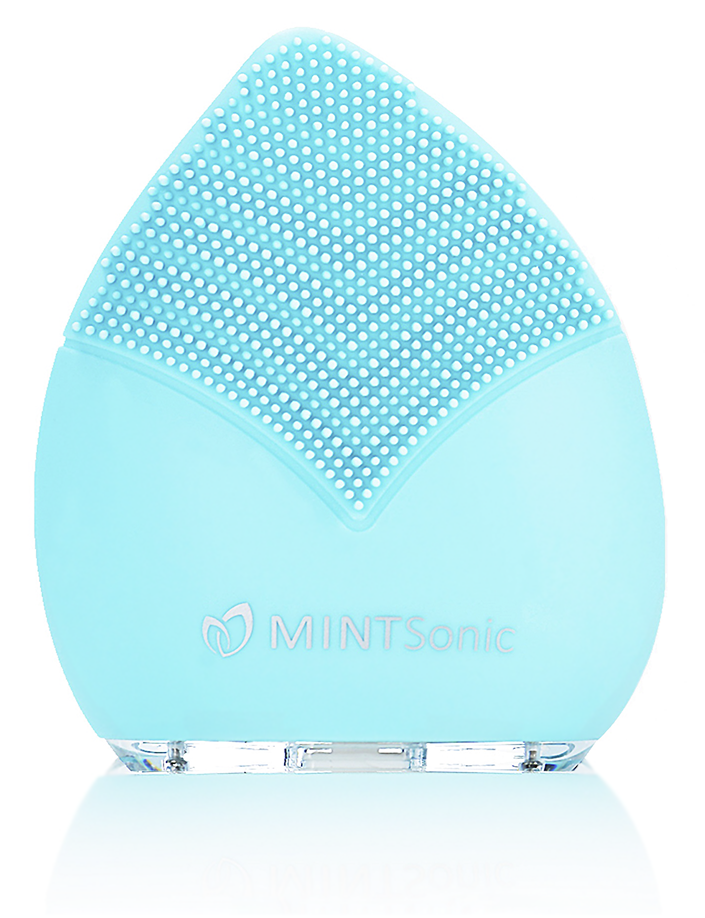 Luxury Facial Cleansing Brush Skin Care System
GAIN VIBRANT CONFIDENCE IN YOUR FACE with a deeper clean and younger, more beautiful skin! MINTSonic's Extra Large cleansing surface uses only the finest medical grade silicone with the best engineered sonic power to outlast any competitor. Gently remove stubborn makeup, exfoliate, deep clean pores,reduce breakouts, & remove blackheads with maximum power & minimal effort so you will FEEL CONFIDENT with fresh, glowing skin. 100% waterproof
GET HEADS TURNING EVERYDAY with your radianting, clear complexion. Be among the many women who experienced SMOOTHER, SOFTER, FIRMER looking skin that'll keep you smiling and the compliments rolling. MINTSonic's antibacterial, soft bristles give extra gentle care and love your skin like a Kardashian loves a selfie. Wave a cheery farewell to cheap, germy spin brush alternatives that wreak havoc and cause microtears on your skin.
READY TO ROLL IN LESS THAN 1 MINUTE as you reveal your youthful radiance. Deep cleaned pores keep skin clear, help reduce blemishes, prevent and reduce creation and appearance of acne scars and dark spots. Unlock the full power spectrum of skincare with 15 adjustable intensities and up to 8000 sonic pulses per minute. Optimized for ALL skin types.
STOP WASTING MONEY on lesser quality tools and GET YOUR MINTSONIC TODAY with our special Amazon pricing. Comes with Our 100% satisfaction, no quibble, money back guarantee.


ONLY $39.99 & FREE Shipping with Amazon Prime!

The massaging micro-vibrations are gentle enough to use daily, and effective when it comes to fighting the signs of aging.

LOOK YEARS YOUNGER with MINTSonic's gentle micro-firming vibrations that help massage deeply hydrating serums into your skin and bring oxygen to the face. This allows your favorite anti-aging skincare products to effectively moisturize, firm and reduce the appearance of fine lines and wrinkles.

See an instant difference!
GIVE YOURSELF AND YOUR FRIENDS THE GIFT OF BEAUTIFUL, RADIANT SKIN TODAY!
SIMPLE 1 MINUTE TWICE DAILY SKINCARE ROUTINE to BRING THE SPA TO YOUR HOME!

1. CLEANSE/EXFOLIATE: Apply Cleanser to skin, then use upward circular motions to gently cleanse at a setting most comfortable for you. Use higher settings to exfoliate. Rinse, pat dry.

2. ANTI-AGING MASSAGE: Use lower settings to deeply massage nourishing serums into skin.

REVEAL YOUR RADIANT GORGEOUS SKIN with MINTSonic!

TRAVEL sized face brush for on-the-go facial cleansing and makeup removal.

UPGRADE your beauty arsenal with MINTSonic - Try it RISK FREE - CLICK TO BUY NOW!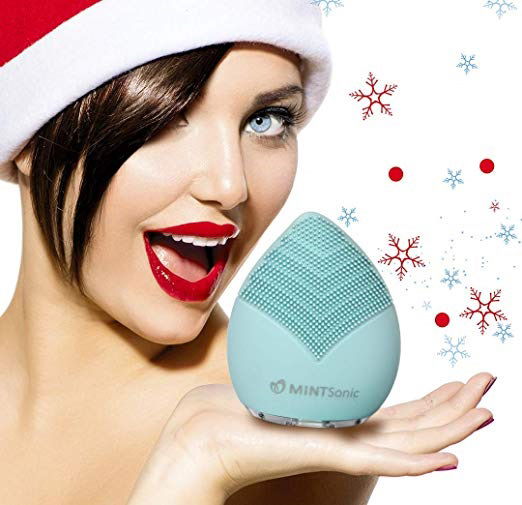 ONLY $39.99 & FREE Shipping with Amazon Prime
More Benefits:
Cleanses significantly better than with hands alone in just 60 seconds, especially on hard to remove makeup
Clarify your skin without irritation
Save money: Use less product and no more brush head or battery replacements needed.
Relax and feel pampered everyday
Smooth skin tone and texture
Young, healthy looking skin
Effective skin product absorption
Minimize pore size, skin redness
Optimized for ALL skin types including those with mild rosacea.
Waterproof (IPX6) - safely use in bath or shower
Invest in your skin - The best foundation you can wear is GLOWING, HEALTHY skin!
EASY, EFFECTIVE, CONVENIENT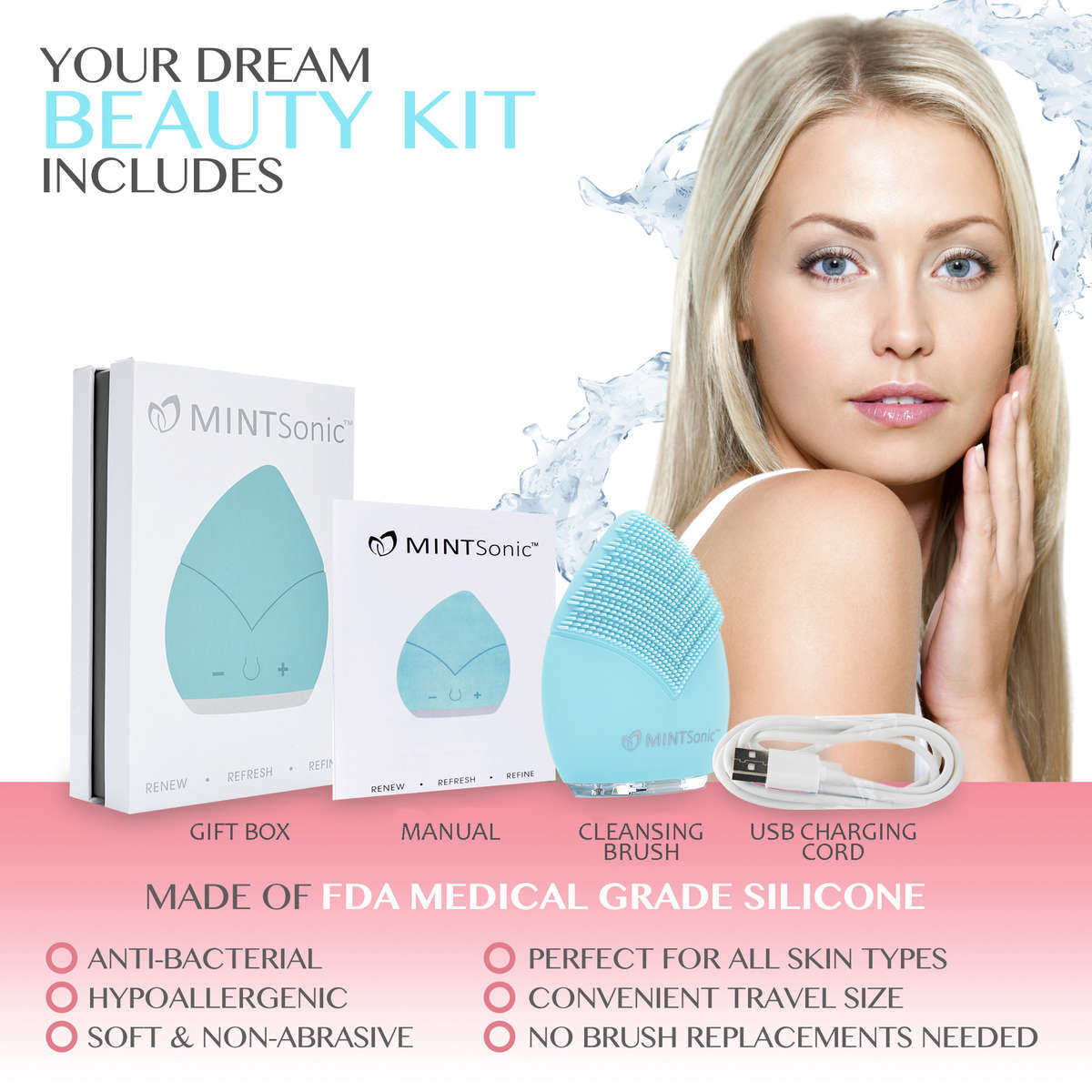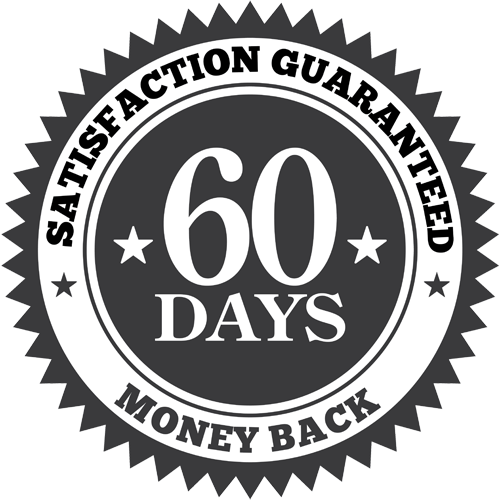 100% Satisfaction guaranteed!
We stand behind everything we sell. All of our products have an 60 day no questions asked guarantee.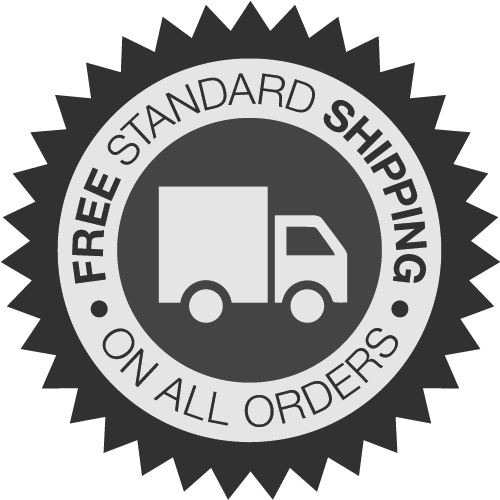 Free shipping, no minimums!
Free standard shipping and returns within the USA when purchased at our website or from Amazon Prime!