Anti-Aging, Rejuvenating Collagen Facial Mask
Quantity
Pack of 5
Pack of 10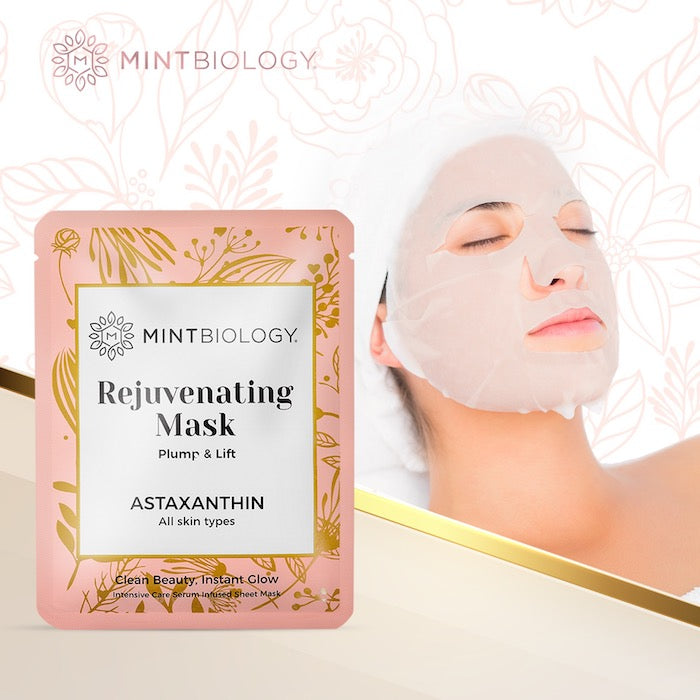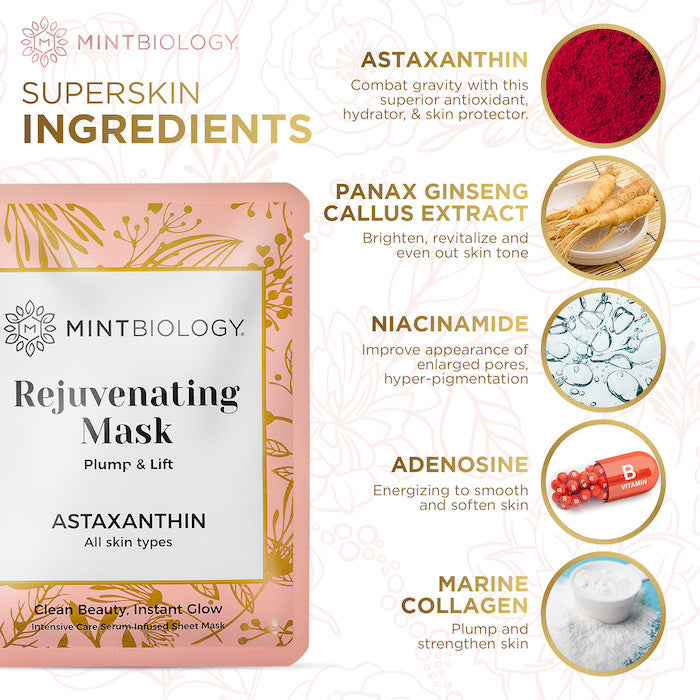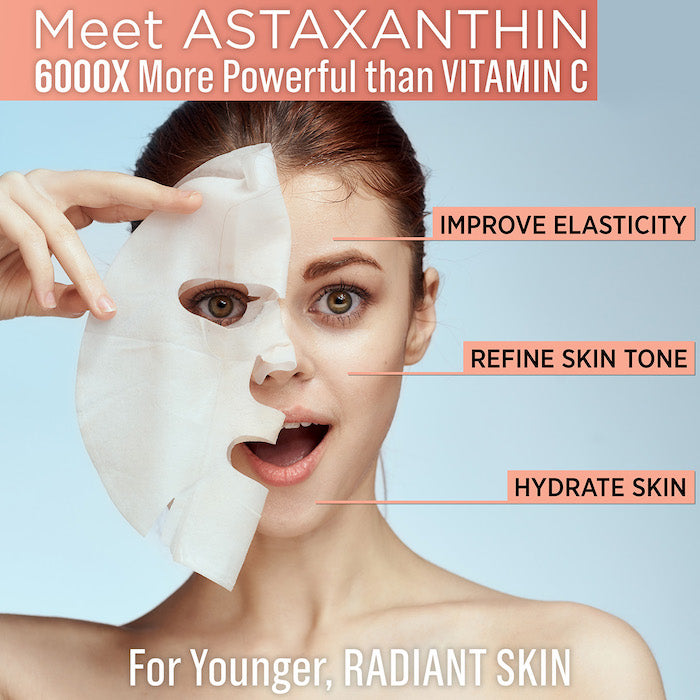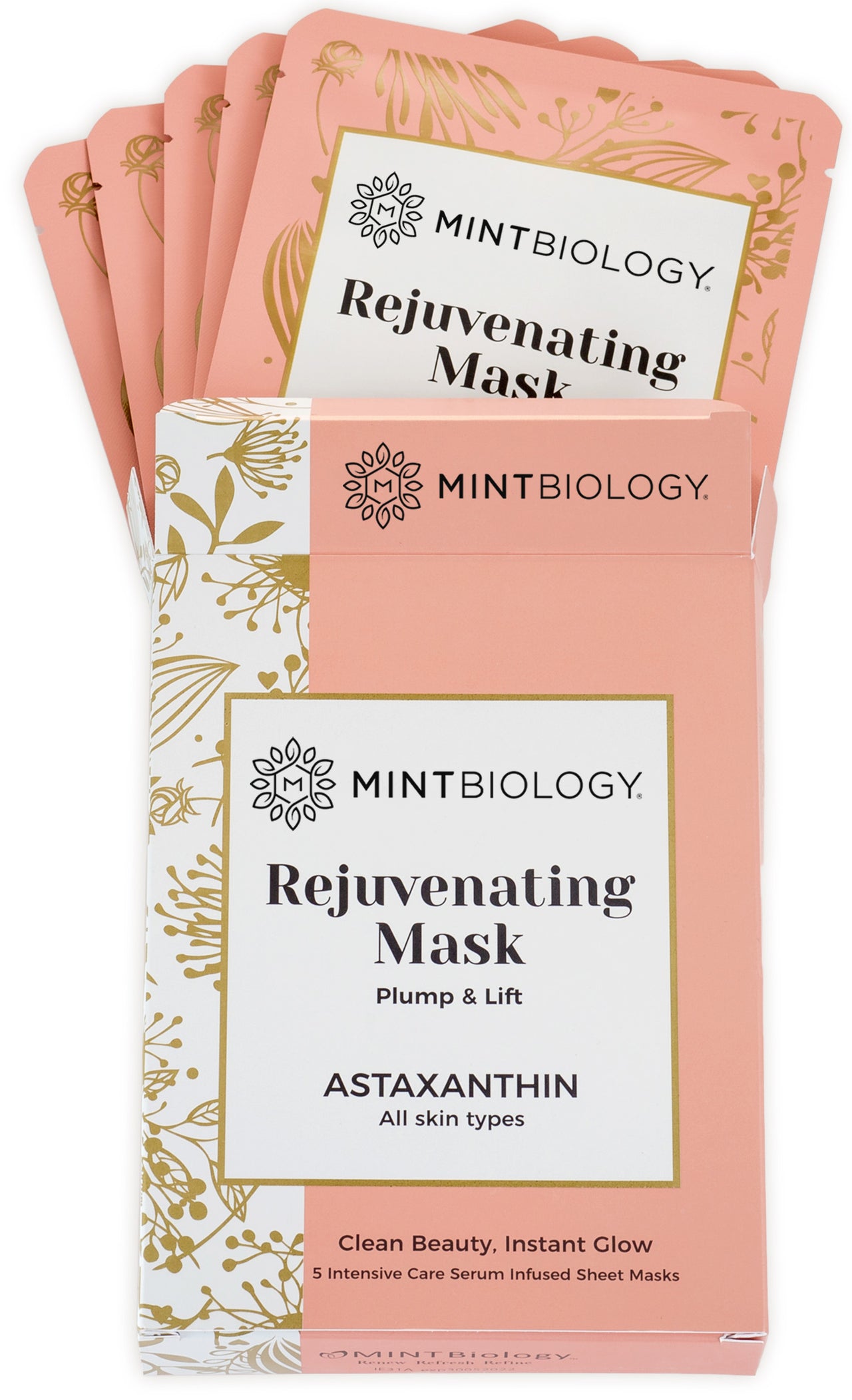 Easy to Apply & Enjoy
Simply smooth on, relax for 15-30 minutes, rejuvenate, and enjoy glistening, youthful, healthy skin.
"Like an Instant Face Lift… Only Chemical, Laser & Pain-Free!"
Unlike most facial masks that are formulated with alcohol and cheap, questionable ingredients, these premium hydrating sheet masks are free of any harsh, skin-irritating or sensitizing chemicals.
Radiance-Infusing, Proprietary Antioxidants Derived From Timeless Korean Beauty Secrets
Each breathable mask leverages our proprietary combination of elasticity-promoting Astaxanthin, brightening Panax Ginseng Callus, pore-mitigating Niacinamide, invigorating Adenosine, and revitalizing Marine Collagen found in industry-leading spa facials.
We utilize the latest advancements in Korean skincare technology, combined with the timeless healing powers of Astaxanthin to penetrate deep dermal layers for an intensely rejuvenating, at-home spa treatment. These ultra silky, serum-enriched collagen masks hug your face and allow your skin to drink up all the enriching goodness. Experience improved elasticity with the world's most potent antioxidants - a proprietary formula that's 6,000 times more powerful than Vitamins C and E.
100% Natural, Clean, Efficient Nourishment
All our products are cruelty-free and FREE of harsh chemicals, parabens, alcohols, mineral oils, phthalates, and formaldehyde.
STOP WASTING MONEY on cheaply made sheet masks with questionable additives and low quality materials that leave sticky residues and cause redness and breakouts. If you're going to put something on your face, make sure it's beneficial for your skin!
Your Skin Deserves the Highest Quality Care
We know how frustrating it is when face masks don't work - or even make your skin worse. That's why we created the most mindfully conscious formula that we trust to put on our own faces and bring you high-quality, effective face masks targeted to transform your skin.

Good For You, Good For Our Planet
Tencel is a 100% biodegradable, environmentally responsible, natural resource. Our aluminum pouches and outer paper boxes are also recycled, recyclable, and biodegradable.
We're passionate and focused on sourcing and combining only the best, cleanest, highest-quality skincare products that give you brilliant skin you can look and feel confident in.

Our Proprietary Skincare Formula Contains:
ASTAXANTHIN
Harness the radiance and healing powers of Astaxanthin to penetrate deep dermal layers for an incredibly rejuvenating spa treatment. Protects your skin and combat signs of aging while promoting firm, plump, smooth skin that's sure to boost your confidence.
PANAX GINSENG & NIACINAMIDE
Gain a bright, even skin tone with these powerhouse, skin-renewing ingredients.
ADENOSINE
Give your skin an energized perk-up and youthful-looking appearance.
MARINE COLLAGEN
Plump and strengthen to slow the effects of aging. This high-performance collagen absorbs 150% more efficiently into the skin compared to other plant and animal collagens.
Pro Tips:
As an added bonus, you can use the excess serum on other areas of your face and body (neck, chest, hands, etc.) 
We recommend using our Sheet Masks with our MintSonic V-Lift for even better serum absorption and skin revitalization. Use the rollers to massage all over your face and neck while the Eye Masks are working their magic.
Ingredients: 
Water, Glycerin, Niacinamide, Dipropylene Glycol,1,2-Hexanediol, Carbomer, Triethanolamine, Sodium Benzoate, Chlorphenesin, Sodium Hyaluronate, PEG-60 Hydrogenated Castor Oil, Adenosine, Disodium EDTA, Vincetoxicum Atratum Extract, Astaxanthin, Hamamelis Virginiana (Witch Hazel) Extract, Collagen Extract, Aloe Barbadensis Leaf Juice, Centella Asiatica Extract, Panax Ginseng Callus Extract, Phellinus Linteus Extract, Monascus/Rice Ferment, Lactobacillus/Soybean Ferment Extract, Fragrance, Glutathione, Avena Sativa (Oat) Kernel Extract
Need more convincing? 
Our 100% Customer Satisfaction Guarantee covers it all.
Here's Why Everyone Raves About Our Hydrating Collagen Masks:
This site requires cookies in order to provide all of its functionality.