Nourishing, Hydrating & Detoxifying Korean Facial Mask
Quantity
Pack of 5
Pack of 10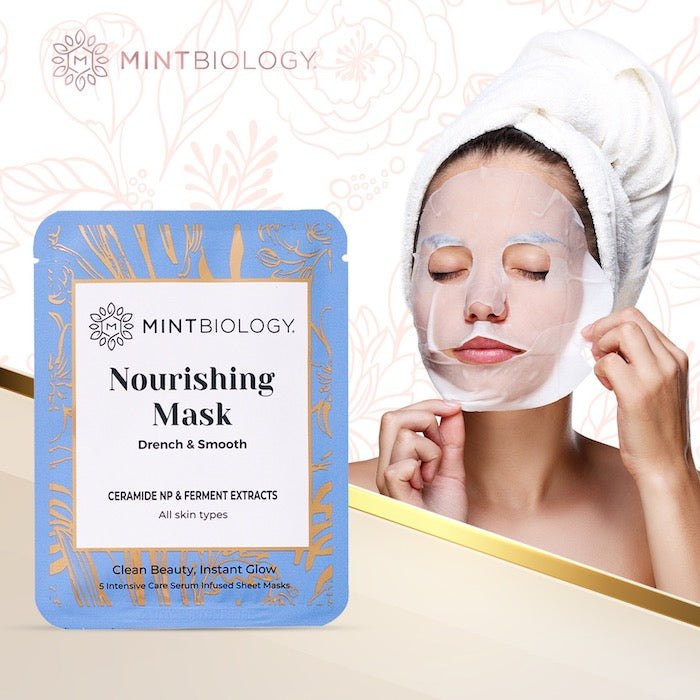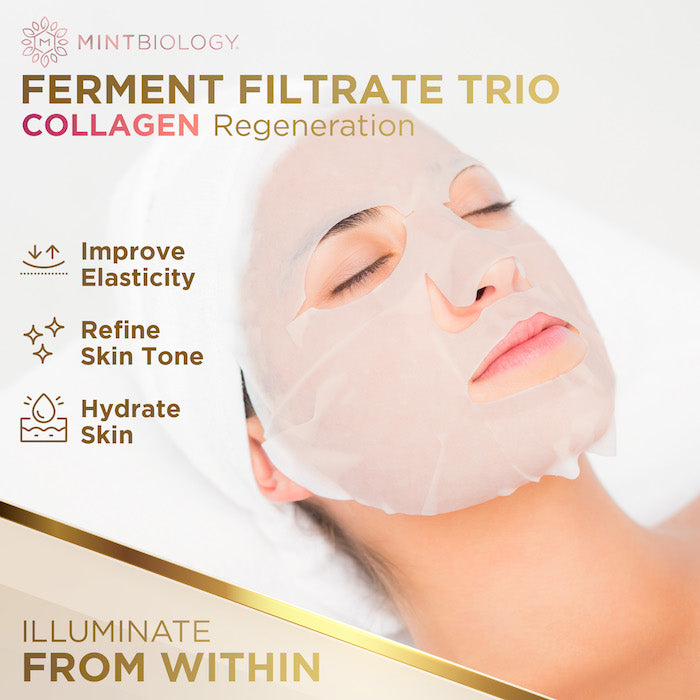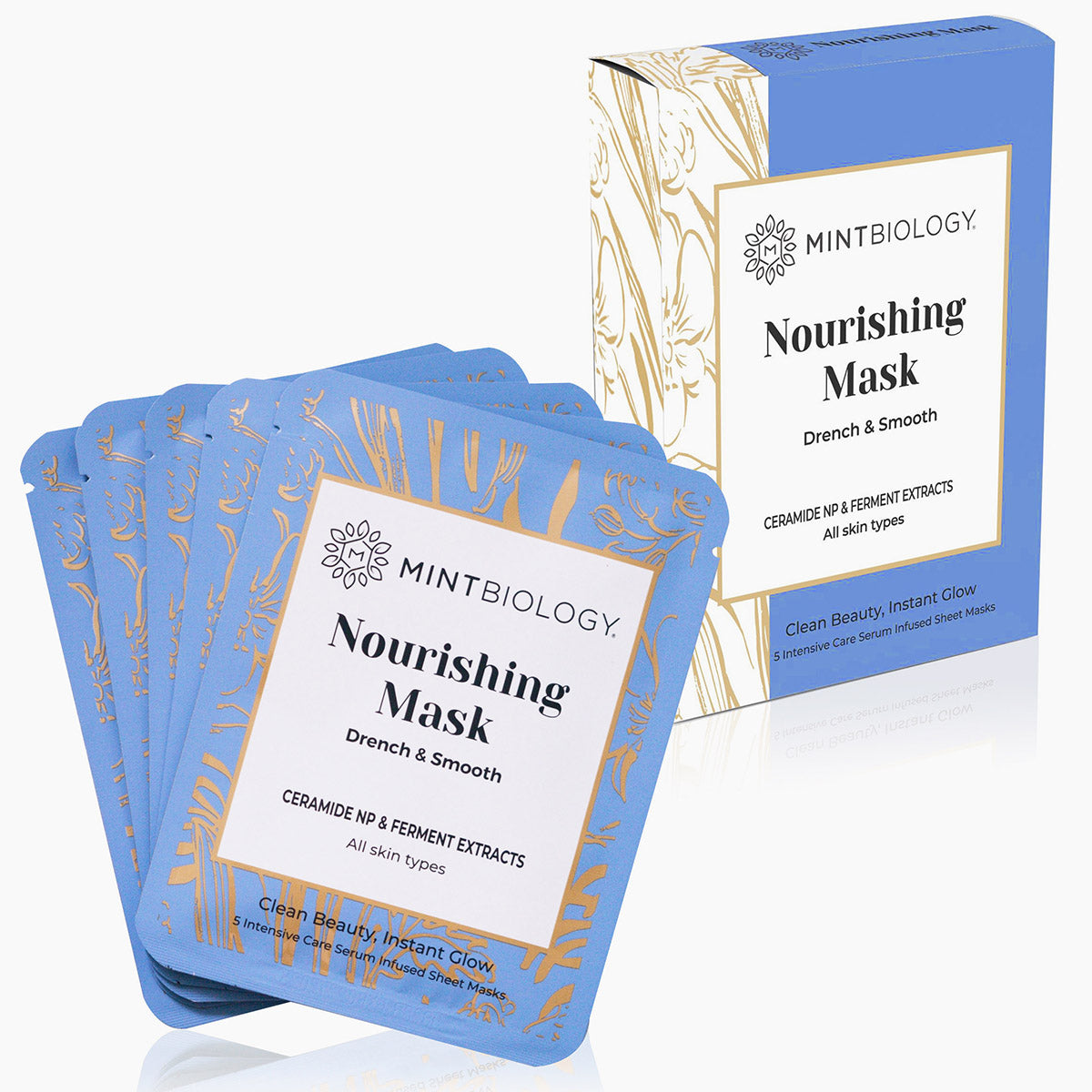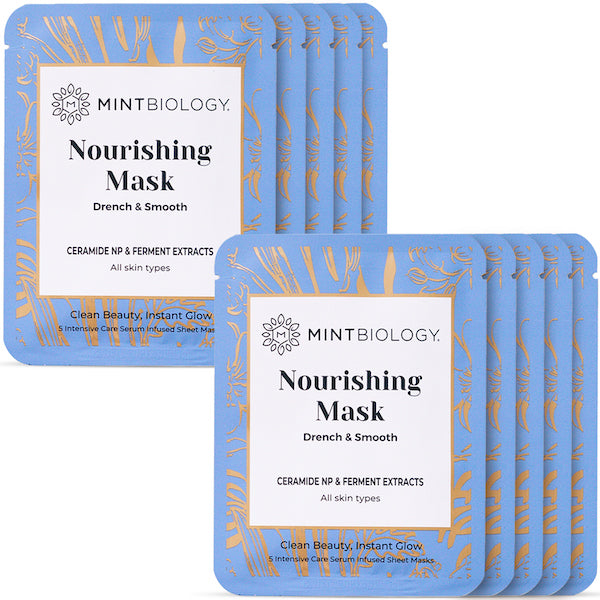 15 Minutes to Better, Brighter, Healthier Skin
Simply put on, relax, peel off, pat in excess serum - and you're done! Your new favorite beauty face mask goes to work even while you sleep with penetrating nutrients that promote night and day revitalization.
An Eco-friendly, Spa-Grade Facial in the Comfort Of Your Home
Our Korean sheet masks are made from silky Tencel fibers. They help retain your natural body heat, open up your pores, and maximize absorption into the deepest layers of tissue - without leaving a sticky residue.
Tencel is also compostable and biodegradable, and thus can fully revert back to nature.
Advanced Penetration, Maximum Absorption, Rapid Results
Each breathable Tencel face mask leverages our proprietary combination of luminosity-enhancing Ferment Filtrate Trio: 
1. Protective barrier strengthening Ceramide NP
2. Pore-mitigating Niacinamide
3. Smoothing, moisture hydrating Sodium Hyaluronate (found in premium spa facials)
Seal Nourishment Into Your Skin
These potent cleansing and hydrating face masks sink antioxidants deep into your pores. Cleanses, tightens, and removes blemishes at the source for that flawless look that otherwise requires loads of makeup to achieve.
The Wisdom of Korean Skincare & Science
Each ingredient promotes restoration, nourishment, and tightening to help you achieve that "poreless, glass skin" look.
Designed For All Skin Types
The only 3 in 1, nutrient packed, MedSpa grade skin solution for every skin type. Even sensitive skin will flourish with our unique, all natural formula.
Truly All-Natural
Unlike competitors, we DO NOT use any harsh methylparaben, propylparaben, alcohol, or any other paraben.

Good For You, Good For Our Planet
Tencel is a 100% biodegradable, environmentally responsible, natural resource. Our aluminum pouches and outer paper boxes are also recycled, recyclable, and biodegradable
Love It, Or Your Money Back!
The magic is in our ingredients; the proof is in the results! All it takes is one look to understand why MintBiology facial treatments & masks are leaders in the mainstream skincare market. 
Each package is quality checked for potency before shipment, ensuring it delivers precisely what we guarantee or your money back!

Our Amazing, Intensive Care Formula Contains:
FERMENT FILTRATE TRIO
Achieve a poreless, luminous complexion as your skin is deeply nourished and free of inflammation or free radical damage. Mimicking skin cells, this nutrient-dense, antioxidant-rich formula works in a symbiotic fashion to promote skin renewal. The fermentation process preserves without parabens and deeply concentrates nutrients so they're easily absorbed by your skin for a flawless, radiant look and feel.
CERAMIDE NP
Get fresh, dewy skin when you lock in moisture while strengthening, and protecting the skin barrier.
NIACINAMIDE
Flawless, bright, even complexion is yours with this popular powerhouse ingredient.
SODIUM HYALURONATE
Gorgeous, porcelain skin awaits as this deeply hydrates, smoothes, softens, and revitalizes.
Pro Tips:
As an added bonus, you can use the excess serum on other areas of your face and body (neck, chest, hands, etc.) 
We recommend using our Sheet Masks with our MintSonic V-Lift for even better serum absorption and skin revitalization. Use the rollers to massage all over your face and neck while the Eye Masks are working their magic.
Your Skin Deserves The Very Best!
Research these ingredients and see for yourself why they're exactly what your skin craves:
Ingredients: 
Water, Glycerin, Niacinamide, Dipropylene Glycol, 1,2-Hexanediol, Carbomer, Triethanolamine, Sodium Benzoate, Chlorphenesin, Xylitol, PEG-60 Hydrogenated Castor Oil, Disodium EDTA, Ceramide NP, Vincetoxicum Atratum Extract, Phellinus Linteus Extract, Monascus/Rice Ferment, Lactobacillus/Soybean Ferment Extract, Sodium Hyaluronate, Xylitylglucoside, Anhydroxylitol, Galactomyces Ferment Filtrate, Fragrance, Glutathione
Need more convincing? 
Our 100% Customer Satisfaction Guarantee covers it all.
Here's Why Everyone Loves MintBiology Korean Beauty Sheet Masks:
This site requires cookies in order to provide all of its functionality.