Anti-Aging 24K Nano-Gold Marine Collagen Eye Masks
Quantity
Pack of 15
Pack of 30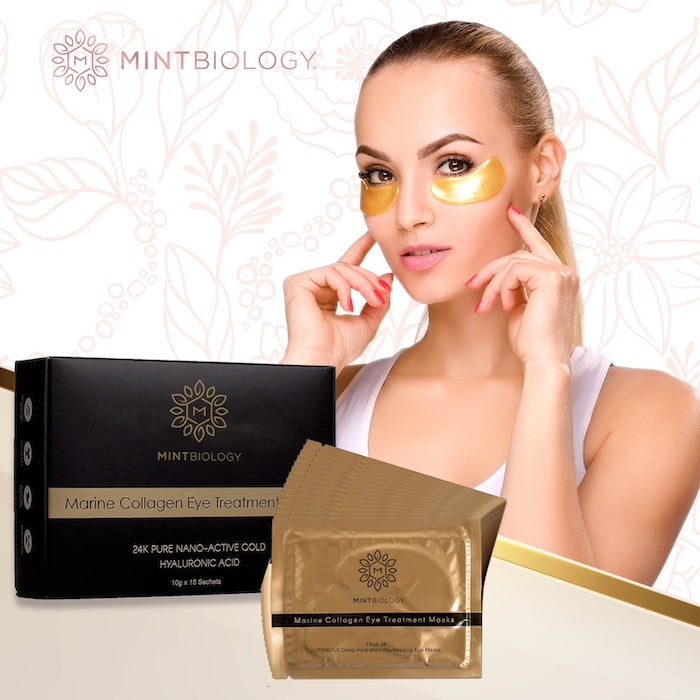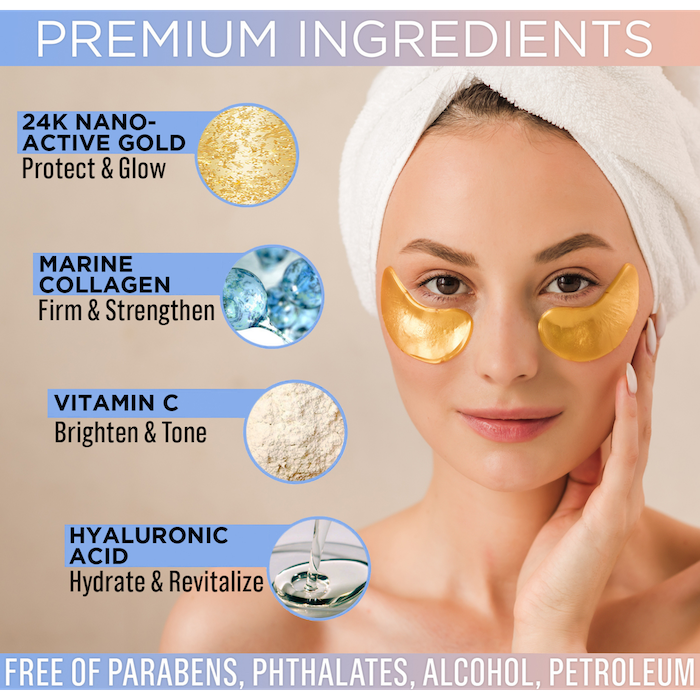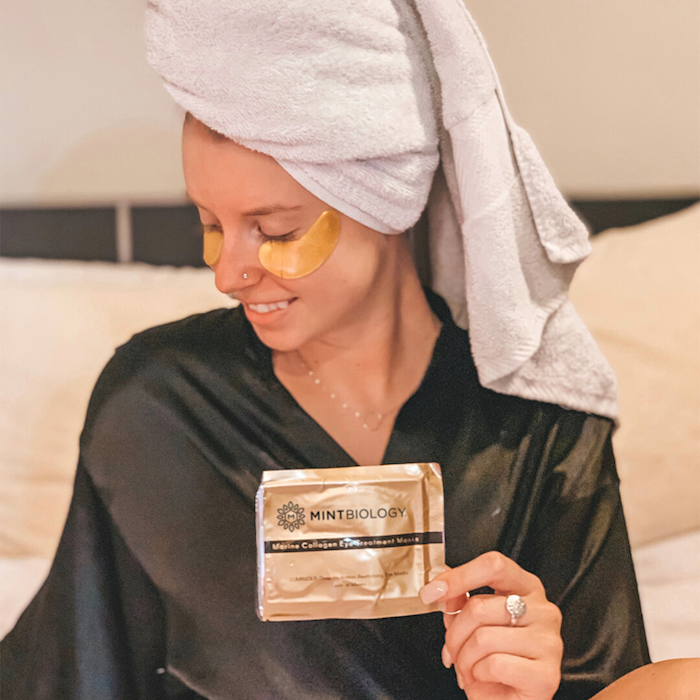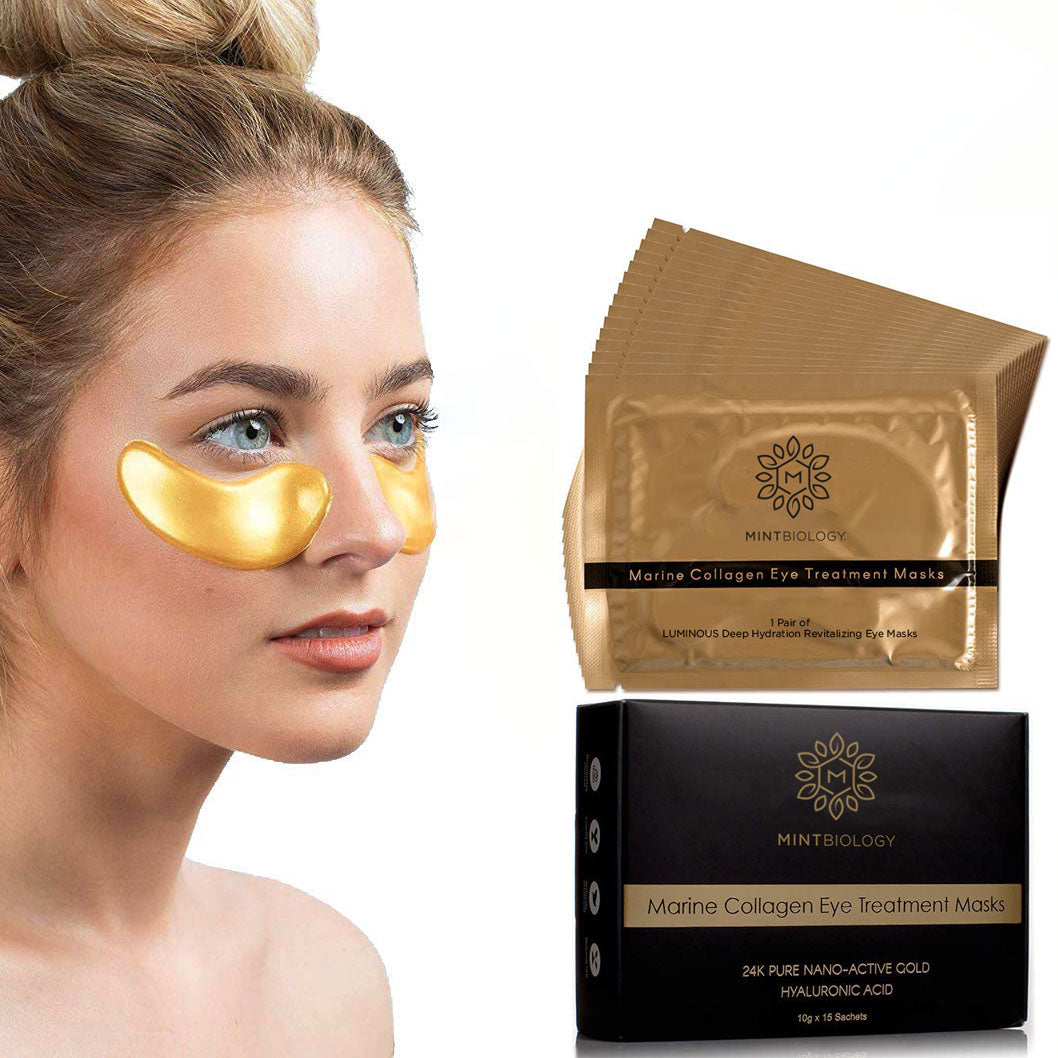 How to Use 24k Nano-Gold Collagen Eye Masks
For best results, refrigerate for 30-60 minutes before use.
1. Gently apply masks onto clean skin under each eye.
2. Leave on for 15-30 minutes, allowing your skin to savor the serums.
3. Remove pads and gently pat in remaining serum. 
Do not wash your face after removing your eye masks; the serum continues repairing your skin post-removal.
Ingredients Science Trusts & Your Skin Craves
24K Nano-Gold: aids in deeper, more effective nutrient penetration and bioavailability via nanotechnology. This natural, precious metal also helps purify and renew the skin from the inside out.
Marine Collagen: helps improve elasticity while rejuvenating and firming your skin for a more youthful look and feel.
Vitamin C: anti-inflammatory, antioxidant, protective, anti-aging, hydrating, healing, and beauty benefits.
Hyaluronic Acid: the all-star skincare ingredient for hydrating and renewing the skin and retaining moisture. It also helps fight off signs of aging while plumping and luminating.
Licorice: Contains anti-inflammatory properties and helps reduce irritation, hyperpigmentation, dark circles while fighting free radicals. It's also known for its healing, protective, and regenerative properties. 
Oat Peptides: form a protective film that locks in moisture.
Flavonoids: high in skin-nourishing antioxidants that help neutralize free radicals. 
Lutein Extract: supportive antioxidants that protect the skin from light-induced and UV wavelength skin damage. Helps improve skin elasticity, tone, and appearance.
Diatomic Polysaccharide: water binding, de-puffing and antioxidant properties for skin hydration, replenishing, and renewal. 
Rose Essence: a gentle, natural astringent and antiseptic that helps cleanse the skin, prevent blemishes, and soothe irritation.
So It's Like an Instant Eye Lift? Whenever I Need It?
Exactly! While we LOVE our estheticians, we don't always have time to sneak away for an hour of pampering…
Not to mention much of what facials deliver is like 'paint' on your skin. Sure, those dark circles, puffiness and dryness disappear temporarily, but one bad day and BOOM…you're starting all over again. 
Eye maintenance is regular maintenance. These Gold Eye Masks make it easy! 
Simply chill them. Place and leave them on for 15 to 30 minutes while you make your coffee, or unwind from a hectic day.
Pro Tips:
As an added bonus, you can use the excess serum on other areas of your face and body (neck, chest, hands, etc.) 
We recommend using our Sheet Masks with our MintSonic V-Lift for even better serum absorption and skin revitalization. Use the rollers to massage all over your face and neck while the Eye Masks are working their magic.
Full Ingredients List:
Water, 24k Nano-active Gold, Vitamin C, Deep Sea Fish Small Molecule Collagen, Hyaluronic Acid, Licorice, Oat Peptides, Flavonoids, Lutein Extract, Diatomic Polysaccharide, Rose Essence.
Need more convincing? 
Our 100% Customer Satisfaction Guarantee covers it all.
Here's Why Women Swear By Our  24k Nano-Gold Eye Masks:
This site requires cookies in order to provide all of its functionality.