Platinum KOA Massage & Gua Sha Tool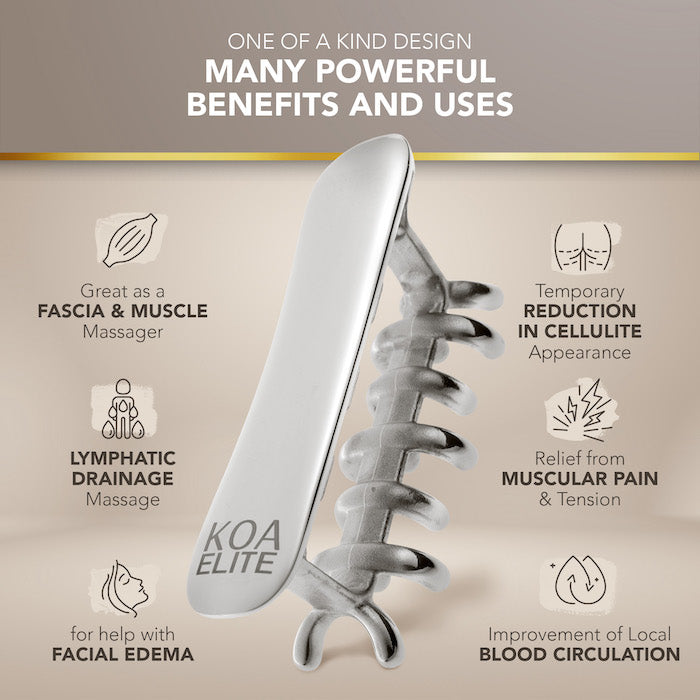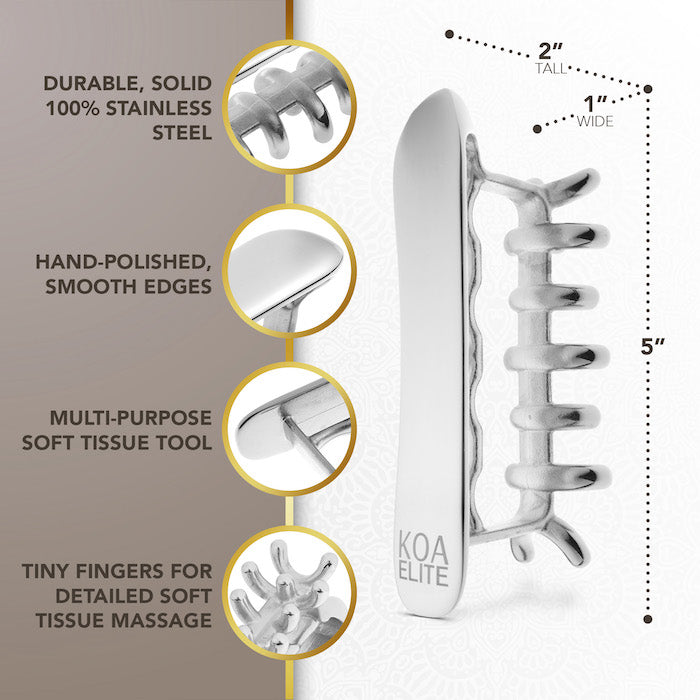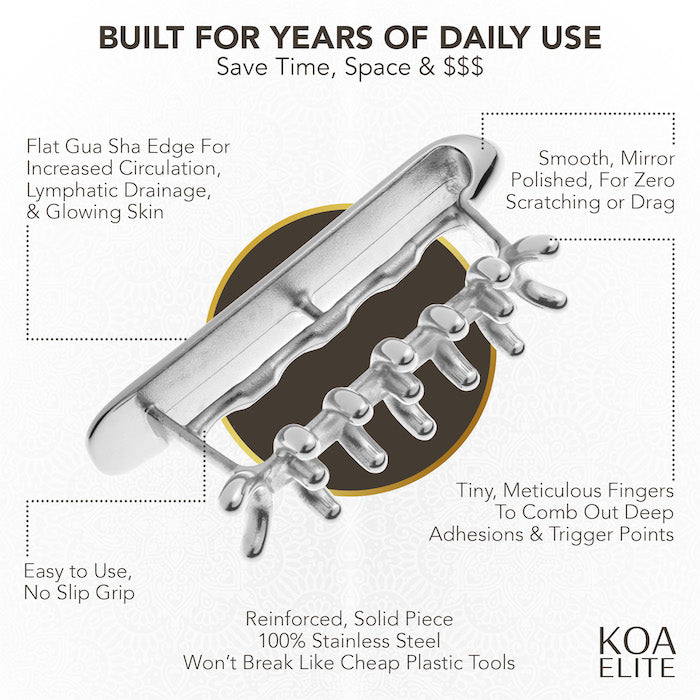 How Do I Use the Platinum KOA Massage & Gua Sha Tool?
On bare skin with oil, or over tight-fitting, smooth clothing.
1. Start with light, brisk strokes.
2. Ease into deeper pressure. Work around tense areas until they relax and allow decompression.
3. Use the smooth side to gently scrape the skin.
4. Use the rounded and pointed ends to release trigger points.
Why It Works
The KOA Massage & Gua Sha Tool decompresses and relaxes tension by targeting the body's myofascial tissues in a uniquely gentle and effective way. Unlike other massage and Gua Sha tools, our patent-pending HUMANTouch™ technology allows the KOA's fingers to comb through and release adhesions that cause tension, pain, and dysfunction.
Bring The Spa Home - Or On The Go
Pick it up any time for quick, on-the-go relief, or treat yourself to a deluxe spa experience. Perfect for the bath, shower, gym, sauna, yoga studio, sports field, office, traveling, on the go, or at home.
STOP WASTING MONEY on cheaply made, ineffective massage tools made of dangerous chemicals and toxins only to find out that the hard plastic or foam pinch, hurt, or break easily.

All while promoting healthy, vibrant, lifted skin!
PLATINUM KOA MASSAGE FAQs:

USA Patent Pending Design
HumanTouch 3.0™ is our proprietary, patent pending technology that integrates optimal myofascial and musculoskeletal spacing with knobs and points that mimic your therapist's fingers, knuckles, and elbow to break up tense, sore tissue - at the pace, pressure, depth, and threshold you control.
Patents Pending
Share the Gift of Healthy, Pain-Free Living
An essential body massager tool for yourself, your loved ones, and even your furry friends. Click 'Add to Cart' now and prepare to enjoy endless incredible massages, pain relief, and upgraded performance.
Need more convincing? 
Our 100% Customer Satisfaction Guarantee covers it all.
Why Everyone Loves The Platinum KOA Massage Tool:
This site requires cookies in order to provide all of its functionality.